TeeJet Technologies began building products to protect crops in the 1940s and has continued to deliver top-of-the-line tech at an affordable price ever since. They're here to help maximize your yields without breaking the bank.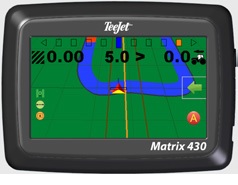 Matrix® 430
Guidance. Simplified.
The compact Matrix 430 is easy to use, low cost: graphical guidance system ideal for first-time users. The full-color touchscreen display allows the operator to navigate fields with minimal skips efficiently and overlaps in coverage.
Matrix 430 Features and Benefits:
Versatile GNSS guidance in a compact: portable package.

High-contrast, full-color. 4.3 in / 110 mm graphic touchscreen display provides superior visibility in bright light conditions.

Full time, on-screen numeric display of cross-track error with a user-selectable display of two additional parameters, including worked area, worked time, and ground speed.

High-quality, internal GPS/GLONASS engine with ClearPath technology enhances GNSS performance in areas where reception is poor or in regions where SBAS differential correction is not readily available.

Optional RXA-30 antenna provides improved reception and noise rejection for situations where GNSS signals may be weak or partially obstructed.

Minimal setup needed before operating.

Guidance modes include Straight AB, Curved AB: Circle Pivot: and Last Pass.

The return-to-point feature allows an operator to resume jobs or mark field hazards easily.

Boundary function allows for easy and precise measurement of the field area.

Implementing ON/OFF status can be manually activated on screen for single or multiple sections or a single section only with status detect wire.

The applied alert provides the operator with an audible alarm when entering into previously applied areas.

 Area countermeasures and displays applied areas throughout the application.

Elapsed time countermeasures amount of time spent on the current job.
Simple reporting function provides coverage reports in KML or PDF format downloaded via USB port.