The Simonsen BFT series of tenders are now available with a 304SS option.  All of our BFT tenders are now available in either 409 or 304 stainless steel construction.  Completely welded hopper and frame assembly mean you are getting a solidly built tender that will last for decades.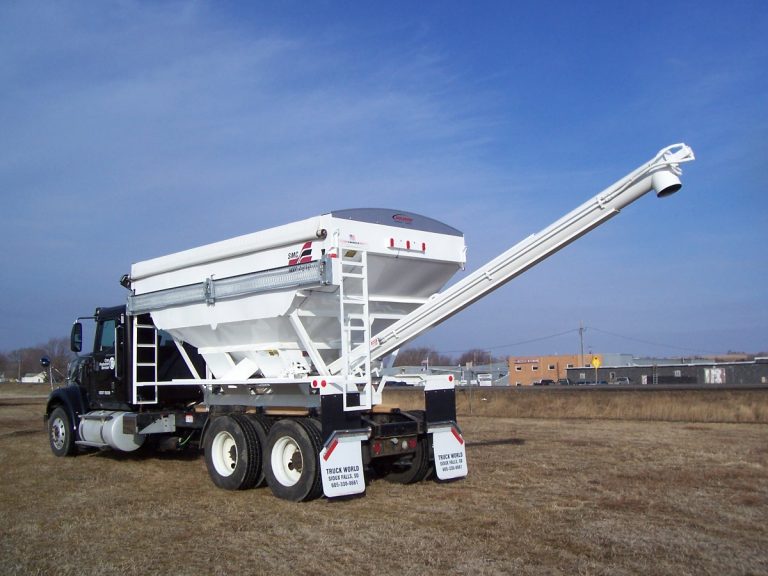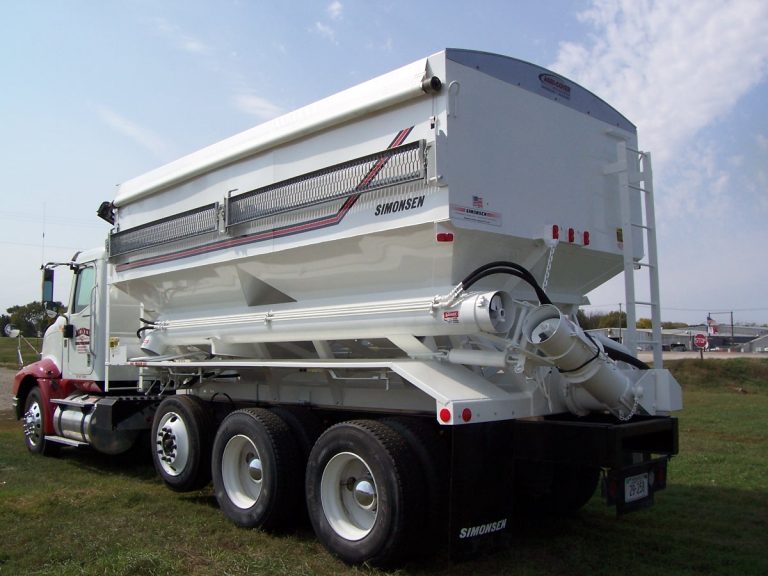 Side/Rear Auger Tenders
The Simonsen rear auger tender is designed to move your fertilizer quickly and dependably. With its steep side slopes, large slide gate assembly, and 10″ delivery auger available up to 21 feet in length, you can discharge up to #3700 per minute into the tallest applicators. Controls are conveniently located in the rear corner, and the auger comes standard with a user-friendly lockdown to keep the auger from bouncing—even over the roughest terrain. (Shown with optional fold-down catwalks)
BFT5316S
The BFT5616S is a popular tender for making quick runs with fast turnaround times. With an 18′ stainless steel delivery auger and an unloading rate of up to #4000 per minute, keeping your spreaders moving is a snap. There are many options available on all of our tenders, so you can customize your tender to match your business needs.
BFT6318S
The BFT6318S side delivery tender is a great choice when you need more capacity but want to retain a truck-mounted tender's flexibility. This tender features a 10″ stainless steel auger system rated at up to #4000 per minute. Also pictured is a new standard feature on our side auger tenders, the large pit dump/cleanout door.
BFT8424S
24 ton truck mounted side delivery auger tender
BFT9527S
27 ton chassis mounted side delivery auger tender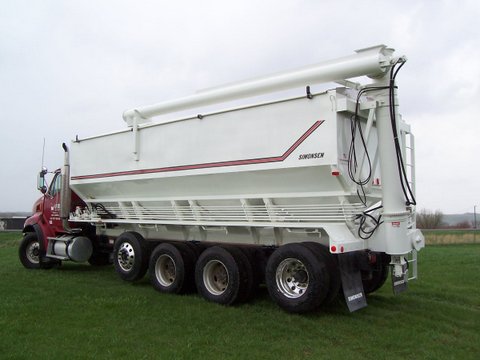 BFTSTA Truck or Trailer Mounted Top Auger Tenders
Truck and trailer tenders available in 16, 18, 24, and 27 ton capacity with 2, 3, 4, or 5 compartments with split compartments available. Top discharge design utilizes a 10′ x 13″ x 10″ auger system with a 19ft. Delivery auger length standard (optional longer augers available.) Powered by direct drive hydraulic motors with high-pressure tandem pump. Delivery auger rotates 270 degrees for easy unloading in multiple compartments without moving the truck or trailer, with an unloading capacity of up to 3500 lbs./min. Individual 14″ x 18″ slide gates are located under each compartment.
Trailer Mounted Tenders

BFT8024STR
24-ton trailer-mounted side delivery tender (shown with optional self-contained engine drive and fold down catwalks)
800 Cubic foot (24-ton capacity).

Three standard eight-ton compartments (splits available up to 6 total compartments).

Seven-gauge stainless steel top perimeter reinforcing for extra strength and rigidity.

6″ higher side option available.

14″X18″ stainless steel slide gates.

Stainless steel hopper, auger tubes, and lighting.

10″ diameter X 18-foot folding delivery auger–16-foot high discharge.

Hydraulic raise/lower and fold in/out.

Hydraulic controls are located on the driver's side front for easy access.

40-degree side slopes for thorough cleanout.

Manual or electric roll tarps are available.

Wet kit or self-contained diesel engine drive available.

New Neville tandem or tri-axle drop deck tender trailers are available from 36 to 44 feet in length.

Full length fold down catwalks available.
Also available in Models: 
BFT8424STR (840 CUBIC FT.)
BFT9527STR (950 CUBIC FT.)
SMC Model Fertilizer Spreaders
Designed as a multi-purpose spreader, the 5-ton SMC1752SHC high clearance spreader is designed to be rugged enough for row crop application, stable enough for pasture application, and versatile enough for top dressing. Designed around the Simonsen SMC pull spreader platform, this spreader provides easy maintenance, low total maintenance costs, and a long useful lifespan.
Stainless steel hopper, floor, rails, and in all critical corrosion areas.

Adjustable tread width 72″ to 120″ is a standard feature.

Heavy-duty tubed frame with solid steel machined hitch clevis.

Hitch clevis is designed to accommodate today's larger tractor drawbars.

540 RPM, 540/1000 RPM PTO or hydraulically driven distributor fan.

Wheel-driven or hydraulically driven apron chain.

50-foot single pass spreading.

170 cubic feet of hopper capacity.

Spread rates from 85# to 640# per acre.

Many options are available to customize units to your specific needs, including all hydraulic drive and variable rate capability.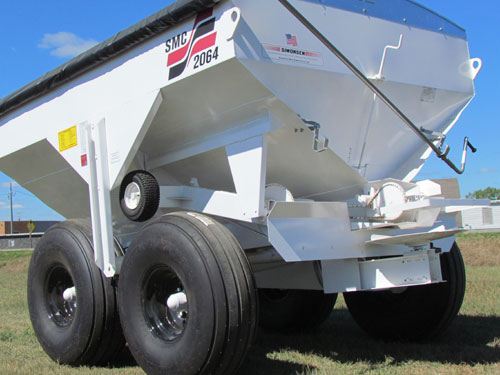 SMC1754S, 2064S, and 2584S
With three models to choose from, you will always be assured that the Simonsen SMC series can grow with your needs. Choose between the 5, 6, or 8-ton models. Like all Simonsen Spreaders, the SMC Series is designed around the same Simonsen quality, dependability, and durability you've come to expect.
Walking tandem suspension for equal weight distribution on each tire.

Large flotation tires.

Stainless steel construction in critical corrosion areas.

Heavy gauge 7" wide apron chain.

Simple chain and sprocket ground wheel or variable rate hydraulic apron chain drive system.

Tested for accuracy, calibrated, and field proved.

Single 24" dished distributor fan with flow control valve for accurate 50' spread pattern.

Spread rate ranges from 85# to 640# per acre.

Heavy-duty hitch clevis, axle pipe, and frame assembly.

Many options are available to customize units to your specific needs.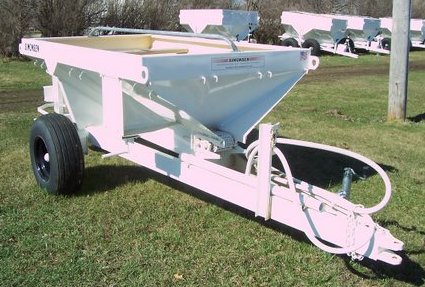 Golf Course and Orchard Spreader
Two-wheel trailer type spreader with 409SS body, 50ft cubic ft. capacity hopper, double 18″ spinner fans. (powered by 540 PTO or Tractor hydraulics. The standard spread width is 30 ft. It has the most granular materials and spread rates from 85 to 640 lbs/acres. A removable banding deflector allows for a spread width of 4-5 ft on each side of the spreader for banding in three rows. (this option is bolt-on and can be removed or added as desired) optional bolt-on 9″ side extensions available to make the hopper 80 cu. ft. Also available with the ground-driven fan, making the entire spreader ground driven. This would allow it to be towed with a vehicle without PTO or hydraulics. Ideal for golf courses and orchards.