Since 1978, Raven has helped create, define and redefine precision agriculture. They continue today to bring groundbreaking new products to growers around the world. The purpose? To put you in control. To help you work smarter, reduce input costs and farm more efficiently. And, ultimately, to increase your yield and profitability.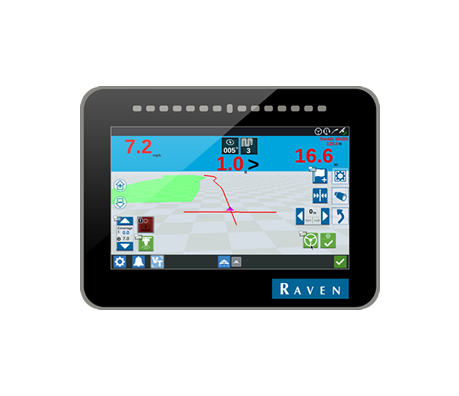 Raven CR7

The latest innovation from Raven CR7 is a small yet powerful field computer. The CR7 is a 7" lightweight field computer with customizable in-job layouts. A simple widget concept, easily accessible settings, and ISO Universal Terminal and Task Controller capabilities make this mighty unit an affordable, plug-and-play system. The CR7 is compatible with Slingshot® File Transfer and Remote Support, SmarTrax™ Autosteering, AccuBoom™, Raven Serial Consoles, and more.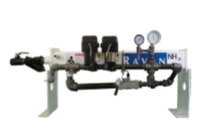 Accuflow-Vortex
Accu-Flow Automatic NH3 Control System
Trust your systems to Raven. The Raven Accu-Flow system provides the precision application of NH3 and the versatility of your operation needs. Use the Accu-Flow System with Raven's complete line of automatic rate control consoles and have the confidence that your NH3 is being applied accurately regardless of speed or field conditions. Choose the Accu-Flow Dual Valve System for ultimate accuracy in the NH3 application.
Extremely accurate day in and day out over a wide range of application rates.

30 GPM super cooler.

Apply in gallons per acre or actual pounds of NH3 per acre.

The cooler can be disassembled for easy cleaning and preventative maintenance.

Single Valve, Dual Valve, and Space Saver plumbing kits available.

Accu-Flow Dual Valve System Parts

Strainer & magnet assembly.

30 GPM super cooler temperature gauge.

Control valve.

Stainless steel flow meter.

Pressure gauge.

On/off Valve.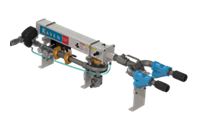 Accuflow HP Plus NH3 System (Vortex)
The new AccuFlow HP™ Plus NH3 application system is designed with unrivaled capacity for running at higher speeds and colder temperatures with less weight on the toolbar. When paired with your Raven Control System, AccuFlow Vortex super cooling NH3 technology replaces the Dual Cooler System to give you superior accuracy and control. The Vortex can be used with or without the Optional NH3 Pump. Connected via ISOBUS and Raven Product control running the Vortex or Raven Accuflow system with your JD2630 or Case IH Pro700 Terminal can reduce the number of consoles in your cab.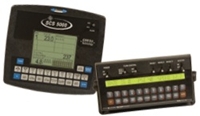 SCS4000 Series Consoles
Control up to three products at once—liquid, dry, NH3, or injection—with this versatile console. The SCS 4000 Series is GPS-ready, accommodates up to 10 booms, and installs with simple in-cab wiring. CANbus technology allows for simple product upgrades.
SCS450
Provides a variety of data including tank volume, total and field area covered, total and field volume applied, vehicle speed, the area covered per hour, and volume per minute. GPS compatible with data logging and variable rate applications.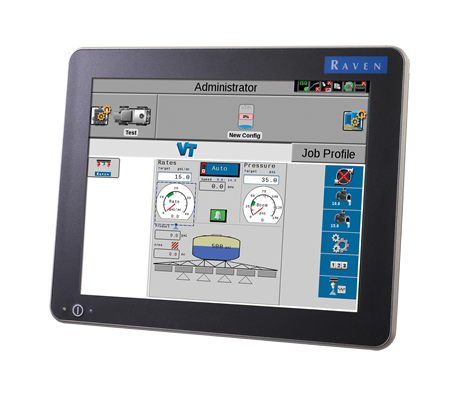 Raven Viper 4
The Raven Viper 4 offers control of all your Raven products at your fingertips. The Viper seamlessly turns your various products into one comprehensive network with an easy-to-control tablet interface.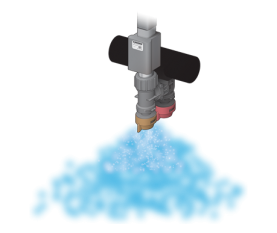 …..Raven Hawkeye
Nozzle Control System
For over thirty years, Raven has dominated the application control market. Our blockbuster new product ensures this legacy will continue. The Hawkeye Nozzle Control System is the latest Raven Technology innovation and the next application control system for your sprayer.
Raven's Hawkeye Nozzle Control System is ultra-precise. This pressure-based product control system allows for precise sprayer application in various conditions, reducing spray drift, and getting the most out of every nozzle. Each nozzle is controlled by its individual pulsing valve, giving you a consistent spray pattern as speed and conditions change.
Hawkeye has been tested for shock, vibration, impact, and weather resistance in rugged terrain and extreme temperatures.
Additionally, its Viton seals have had many hours of testing to ensure system reliability. Hawkeye's durability is unparalleled.
Features:
One control module per system.

ISO compatible, including the Viper 4.

Clean and straightforward installation, setup, and calibration.

Individual valve diagnostics monitor each nozzle.

Seal maintenance kit included with each system.

Adjustable pressure on the fly, including two preset pressures.

Mapping and data logging of each nozzle for more accurate record-keeping.