From handcrafted seats to fabricated decks, BigDog Mower Co. prides themselves in building a quality product. The kind of quality where your work starts to feel like play and your job always gets done. You could say these mowers were just born to work.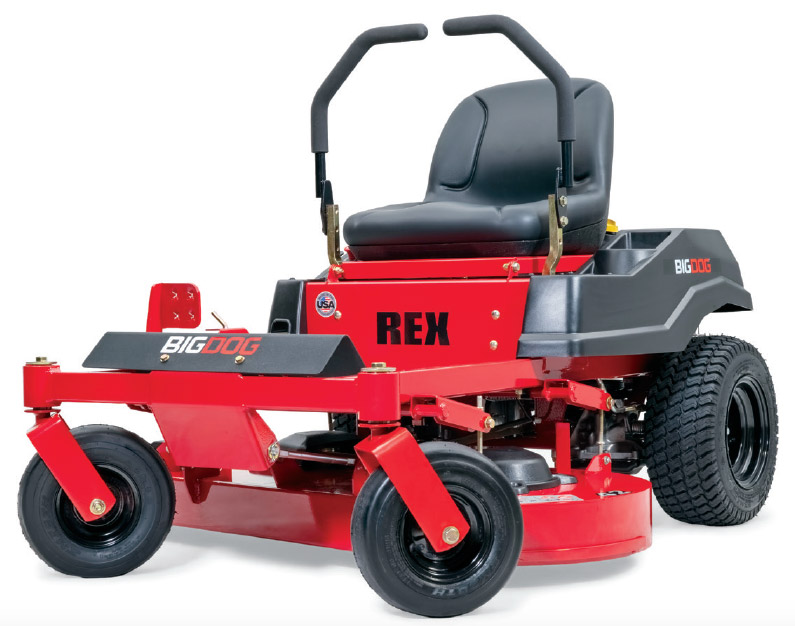 REX
A Small Yard Champion
The Rex zero-turn is a compact residential mower (34″ and 42″ deck sizes available) designed to fit thru most gates and in garage spaces easily. The Rex also sports a welded-steel deck and a foot-operated deck lift.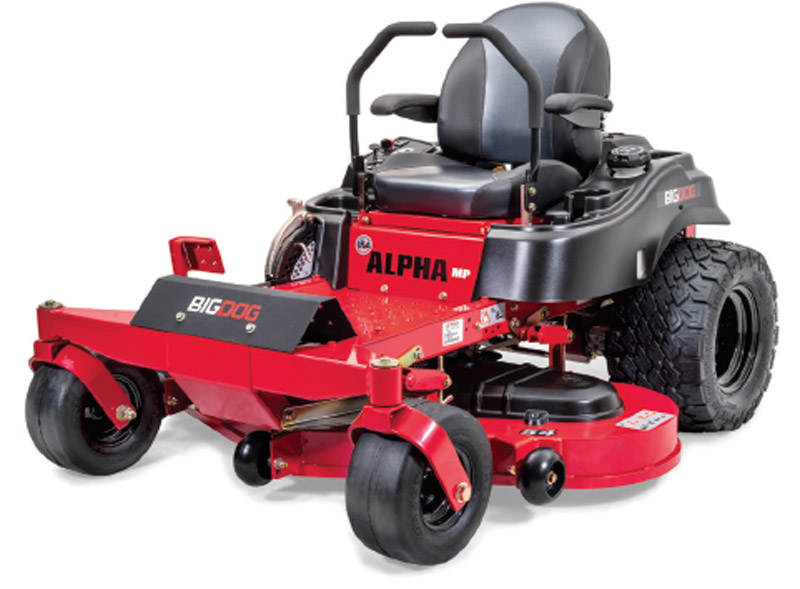 ALPHA
A high performance zero-turn at great value.
The Alpha leads its class with top-quality cutting, power and style. Standard with Briggs & Stratton engine. BigBite Tires, Welded steel deck (36", 42" and 52"). Standard with rugged engine guard.
ALPHA MP
Ready to work
Who knew a mower could look so good? Get all the power and speed you will ever need with the Alpha MP. The Alpha MP provides maximum style and performance standard with a Briggs & Stratton engine, Welded Steel deck (36", 42" and 48")premium seat, BigBite Tires and a rugged engine guard.
ALPHA MPX
Ready to Lead
The Alpha MPX features 22″ BigBite tires to handle tough jobs. A Briggs & Stratton Commercial Series Engine, BigBite Tires, rugged engine guard, Welded Steel deck (48", 54" and 60") bolstered high-back seat and a foot-operated deck lift are also included.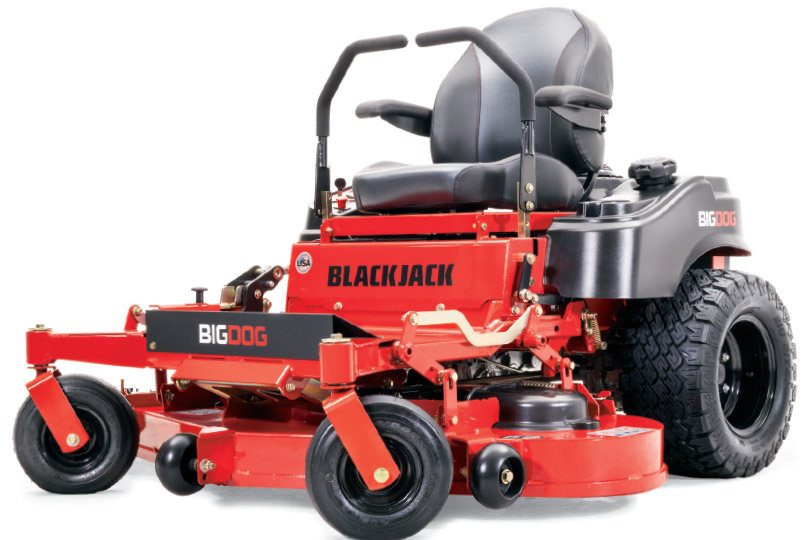 BLACKJACK
Automatically raise, lower, adjust deck height
Our innovative flip deck mower with a Kohler 7000 Pro engine powered by an innovative electric/hydraulic actuated lift deck technology with a Welded steel deck (48" and 54"). The BlackJack is your way to feel like a high roller out in your yard.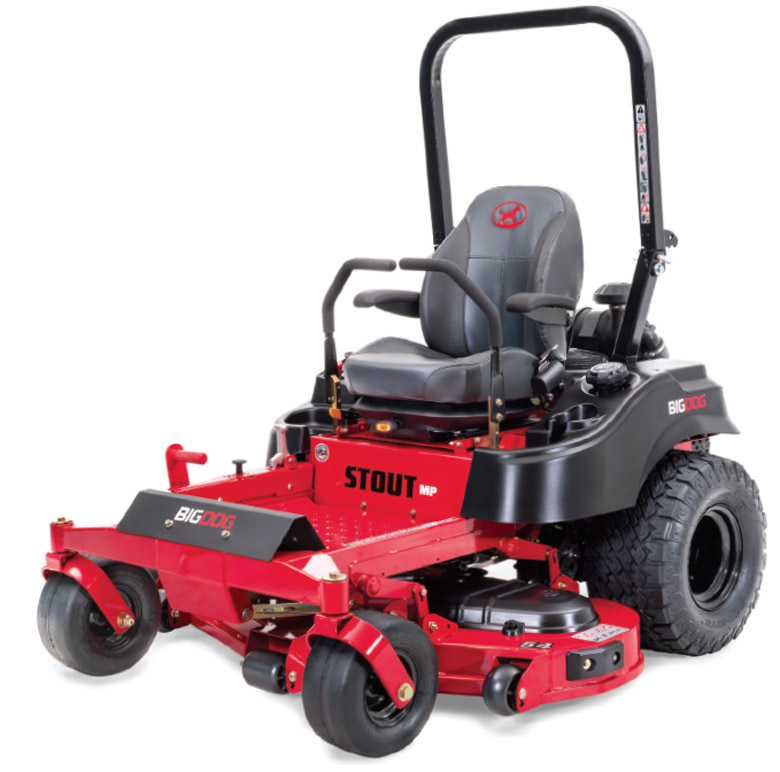 STOUT
Ain't afraid to get dirty
Standard with the Kohler 7000 PRO engine, a welded steel deck (48", 54" and 60"), BigBite Tires plus foldable side-discharge/mulching decks—as the name implies, there's nothing the Stout can't handle.
STOUT MP
Cut through any tough job
Maximum Performance for the prosumer. Get the productivity you need at the value you need with a commercial grade Kohler Confidant series Engine and Hydro Gear's ZT-3400, Welded steel deck (48", 54" and 60") High back deluxe seat with armrests and Backed by a 7-year (1000 hours) limited warranty, this mower is ready to work.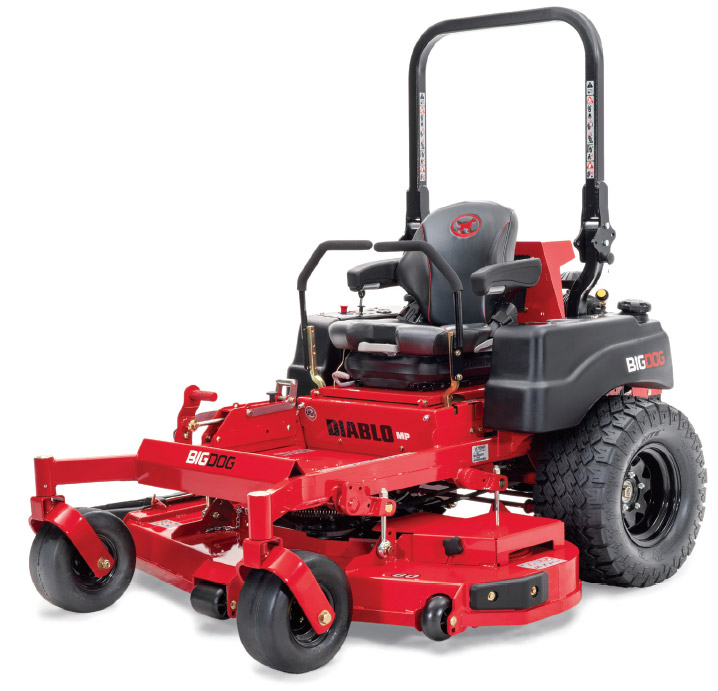 DIABLO
The Devil is in the Details
Built for speed and ready to work, the Diablo boasts a top speed of 10mph and a perfect cut every time. Powered with Vanguard 810cc or the Kohler Command Pro Engines, High back deluxe suspension seat with armrests, Commercial grade heavy-duty unitized 12cc pump transmission by Parker, Welded steel deck (52", 60" and 72"), 11.7 gallon fuel tank and Welded steel frame and optimized center of gravity produce speed gives you the efficiency for the job.